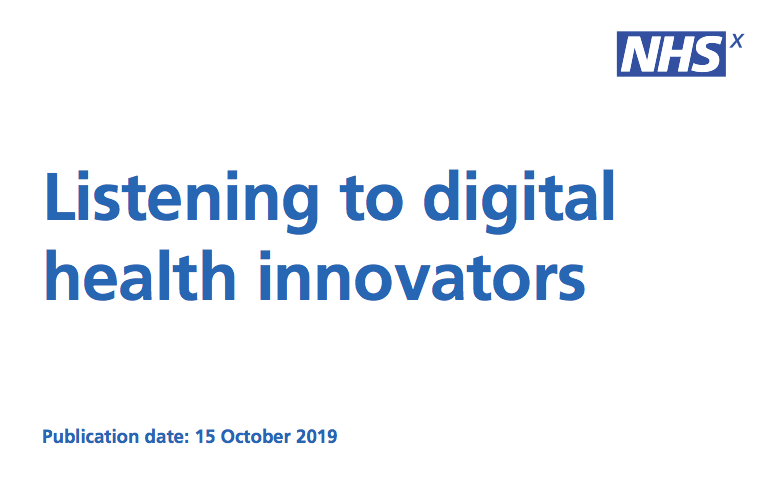 The NHS Digital landscape is changing. It's a challenge for the NHS to keep pace with the digital innovations we're used to in our day to day lives, as primarily the NHS is responsible for providing us with the best care possible. But as healthcare changes, so much the approach to technology,  by providing more accurate, readily available information at the point of care to make safer, faster care decisions.
The approach to NHS tech innovation is currently being formed by NHSX, and is a welcome one. Tara Donnelly, Chief Digital Officer at NHS, stated in the NHS Digital Innovators report that  'all our work at NHSX should be founded on user need' which is exactly where focus is needed if true innovation is to be achieved.
The NHS Digital Innovators report highlighted insights from Digital Innovators that NHSX engaged with over several feedback sessions and exercises.  This insight was collated from 1st July 2019, when NHSX was founded, from the first few months of its inception. From this feedback, NHSX were able to start to shape their strategy and approach to NHS tech innovation.
The main topics of the report are:
Standards
Procurement
Approach and scale
Engagement
Digital capability
Isosec's view on the NHSX report
Michael Latimer, CEO, gave his views in a recent HTN article about the report.
"Isosec wholeheartedly welcome this report and sentiment from NHSX. It's great to see them listening to the industry and wanting to learn from Digital Innovators in the field. Their practical approach is refreshing, the direct willingness to listen seems earnest and we hope that they have the ability to follow this through into real world industry change.
To 'move to an internet-like model of centrally agreed standards and local delivery' is essential for NHS technology. Working to a consistent set of approved standards has long been an area where innovative technology suppliers like Isosec have grappled, especially when customers desperately seek authority approval to ensure they're working towards best practice. We saw it numerous times when we launched Virtual Smartcard. It's great to see this ownership in the report when the ecosystem today is inconsistent and often unworkable – so this is great news for suppliers and consumers alike. Innovation needs this direction to make it adoptable.
On the other hand, where the report states, 'It will mean that NHS organisations can build or buy what they want, as long as they meet our standards of interoperability, accessibility, cyber security and so on' it marks out a route that allows the latest technology to be adopted freely and will start the transformation from legacy purchases to consumer grade ones. This should mean that historical solutions that are no longer fit for purpose won't have such a dominance over NHS technology, and hopefully allow grassroots innovation a clearer path in the industry, making it easier overall to adopt real change.
Isosec is thrilled with the whole report and are looking forward to our upcoming innovators presentation with them, as well as what will hopefully be a brave new world of better technology for UK healthcare. We can't wait to see what's next from NHSX, and hope to continue to be at the forefront of NHS innovation."
Isosec and NHSX driving digital innovation together
As the NHSX approach to innovation develops, so does Isosec's. Our software and solutions are constantly evolving to meet the needs of our NHS customers, and we're proud of our innovative approach when it comes to NHS system security and authentication. In the New Year, Isosec will be heading to NHSX to discuss how innovation can be delivered at pace, and with one key thing in mind – it's centred on the needs of the NHS and it's patients it delivers outstanding care to every day. We'll provide an update on these exciting discussions as and when they happen.