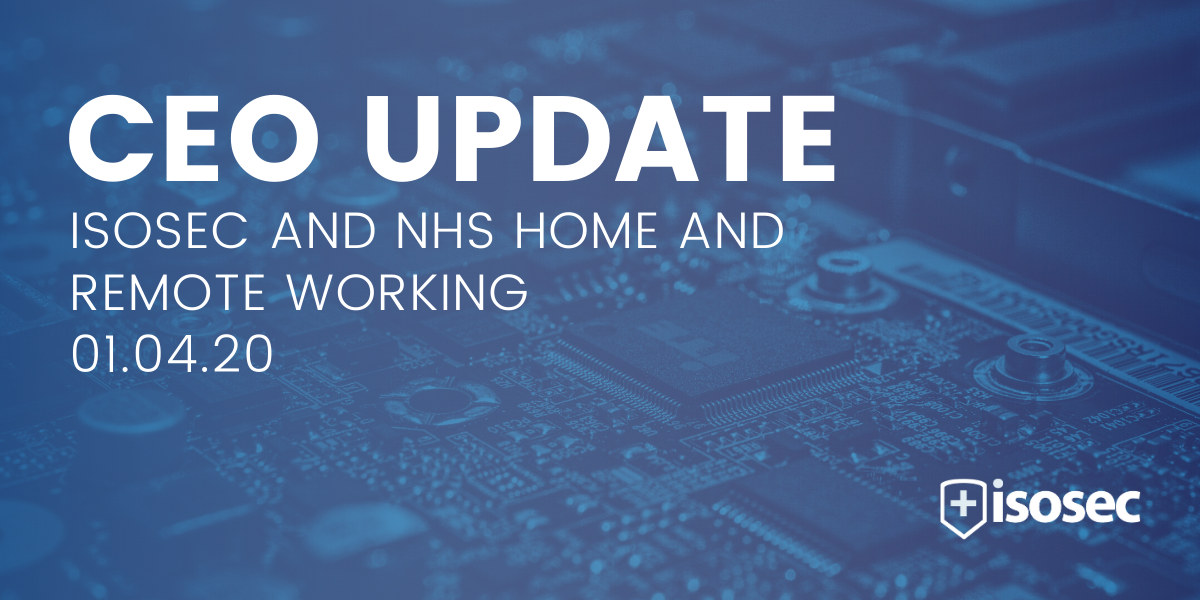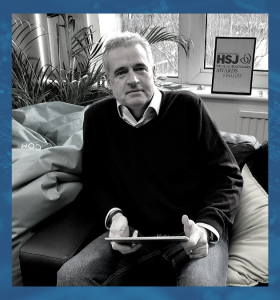 Michael Latimer, our CEO, shares the latest update from Isosec
The Isosec team have been working incredibly hard over the past few weeks, as have health tech providers all over the globe, in direct response to the Covid-19 health emergency.
As a major provider of critical authentication technology to the NHS, never before have I realised the importance of the outstanding teamwork between our amazing NHS customers and our staff, and how, together, we are finding ways to keep NHS clinicians connected and authenticated in such challenging times. 
I thought I'd share with you what we've all been doing in conjunction with our customers and partners.

Home and Remote working for the NHS
This is the single biggest area of demand for Isosec right now and one that poses the biggest technical challenge to the NHS ecosystem today, both in Primary Care and also for our NHS Trust and Community customers.
Just how do we, with very little notice, enable fast and secure home and remote access for clinicians from a wide array of platforms where they need authentication? We are implementing our Virtual Smartcards as fast as we can, to make home and remote access available at short notice. We have dedicated all available resources to delivery and support and our team, along with NHS customers and our technology partners are working 7 days a week to make it happen. We now have deployments working with all the major VDI platforms, like Windows Desktop for Azure, AWS WorkSpaces and VMWare Horizon as well as remote desktop applications such as Away from my Desk.
We've got Virtual Smartcards working with all the major EPR applications, plus delivering ePrescribing functionality. We're in daily dialogue with all the NHS stakeholders and supporting each other to ensure Virtual Smartcards are made available quickly.  It needs to be any device, any platform, anywhere and that's what we're doing today.
We've been making sure enrolment can be self-service to improve remote working, and ensuring that Virtual Smartcard access is under full control and scrutiny of our customers with our web analytics platform.
There have been many challenges for all of us, but the team spirit is shining through. Everyday we are working with NHS tech heroes who will literally move mountains to help us, it's very humbling for us as a business to keep meeting this dedication and enthusiasm day in, day out.

Partnerships
The world of NHS technology is an often complex myriad of partner and framework operations. We have been working hard with a large number of brilliant partners over the last few weeks to make sure we understand each other's technology and leverage the best and fastest route to getting our Virtual Smartcards working and into the hands of clinical users. It's amazing the co-operation and assistance we are getting, it's making a real difference and saving valuable time for the NHS. Without exception this has been one of the major reasons we have been able to move so quickly and we are extremely grateful to all of our partners, old and new.

Business as usual
Isosec is well placed to meet the challenges and demands placed on us. All of our software and services are cloud hosted and delivered. As a team, we already had flexible home and remote working in place for all of our staff, so our move to full-time home working was fast and seamless. We work hard on staying connected and looking out for, and after each other, as you have to do when the workload is intense. I am proud of the work our team does, and they in turn care passionately and share our pride that we are doing everything we can to help the NHS in such demanding times.
Many Thanks, Michael Latimer