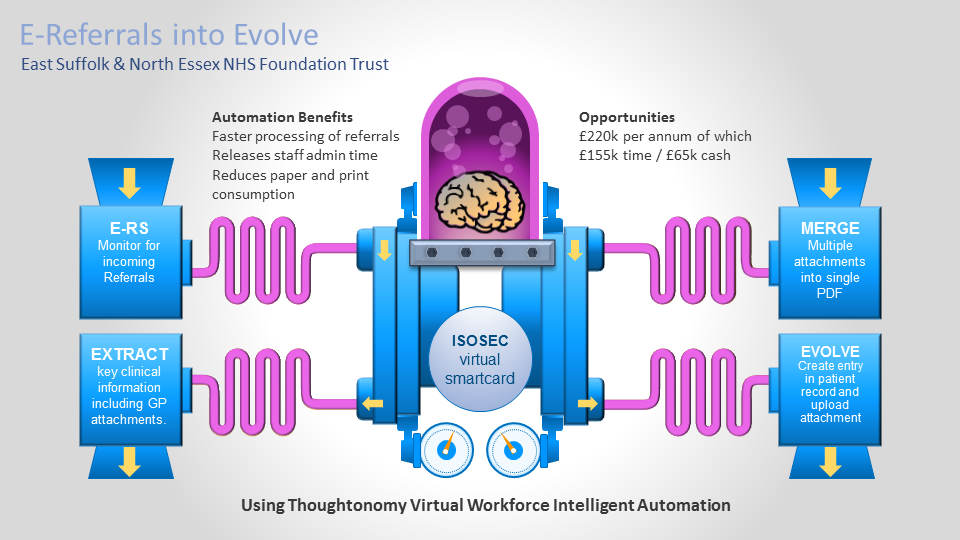 It's not often a new technology solution lands and immediately delivers such an incredible set of benefits for a business and staff – including paying for itself in weeks, rather than years. Robotic Process Automation (RPA) has done  just that for the NHS and we are delighted that Isosec have, yet again, been able to deliver the integral innovation for a user friendly solution.
What Is Robot Process Automation?
Whilst RPA might make you think of a shiny electronic and crudely-humanoid machine running around a data centre, it is actually a remarkably clever piece of software. RPA allows an NHS Trust to perform high volume data tasks to ensure relevant information can be analysed and moved from A to B accurately, under the correct process, in the correct timeframe, whilst also saving NHS staff hours and hours of repetitive mundane administration tasks.
Where does Isosec technology fit in?
As forward-thinking NHS Trusts began to work on making RPA benefit their organisation, it became clear that reliable, auditable and secure authentication was going to be an issue. We have worked in partnership with our pioneering customer East Suffolk and North Essex NHS FT and RPA technology partner Thoughtonomy to completely understand the requirements for an end-to-end technology solution that will deliver all of the benefits of RPA to the NHS.
Using our Virtual Smartcard solution for the authentication we are able to deliver those benefits quickly, professionally and cost-effectively with a tried and tested solution already so welcomed by the NHS technology profession
As you can see, NHS Trust's are already benefitting from the RPA solution with Virtual Smartcard, and it's worth embracing all it can offer your organisation. The offering clearly demonstrates how great partnerships with teams working towards the same goals can deliver success and Isosec are proud to once again be delivering real innovation, products and services that work and change the working lives of all our end user customers for the better…
Even for robots.
To download your copy of our RPA Case Study please click here.